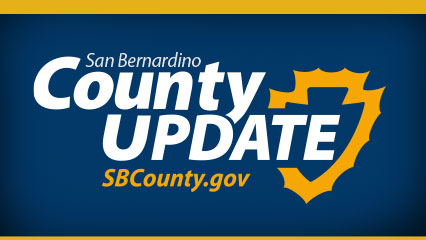 New year, new website for San Bernardino County
The way the County presents itself to our community and the world took a dramatic leap forward in 2023 with the launch of our newly designed County website.
Website visitors will experience not only more color and more photos, but a dynamic spotlight on our programs and services that we provide to the community.
The new design will make it easier to access County departments and services while sharpening our focus on current County projects and initiatives, the latest County news, and upcoming County events.
Watch the launch video here and don't forget to visit us at sbcounty.gov.
Old West Days coming to the San Bernardino County Museum Jan. 14 and 15
Step back in time to the days of the American West, where we'll uncover all the local history about 19th century living on America's western frontier, a unique landscape of converging cultures.
Round up the family and join us for this family-friendly two-day event at the San Bernardino County Museum. Old West Days is from 11 a.m. to 4 p.m. on Jan. 14 and 15.
Nissan's Titan and Frontier trucks are the official trucks of the County Museum's Old West Days and the event is proudly sponsored by Metro Nissan in Redlands.
This is an event not to miss, especially since we were the recipient of the 2020 National Association of Counties (NACo) Achievement Award in the Arts, Culture and Historic Preservation category for Old West Days. We are thrilled to bring this event back and highlight all the remarkable work being done by the partners in our region to promote cultural heritage.
Read more at https://museum.sbcounty.gov/event/old-west-days/.
Check out the Mystery Events at the San Bernardino County libraries
The San Bernardino County Library invites residents to investigate the Library Mystery Events. Enjoy an amazing experience of fun-filled crafts, face painting, balloon artists, and games.
Visitors should bring their library cards, as every 15 items checked out during the events earns visitors a spy pen and an opportunity drawing ticket for a chance to win awesome prizes. All activities are free and open to all ages.
The San Bernardino County Library Mystery Events will take place in the following locations:
Jan. 10 – 4 to 6 p.m., Newton T. Bass Apple Valley Library, 14901 Dale Evans Parkway in Apple Valley
Jan. 11 – 4 to 6 p.m., Sam J. Racadio Library & Environmental Learning Center, 7863 Central Avenue in Highland
Jan. 12 – 4 to 7 p.m., James S. Thalman Library, 14020 City Center Drive in Chino Hills
Jan. 21 – 1 to 3 p.m., Crestline Library, 24105 Lake Gregory Drive in Crestline
Jan. 24 – 4 to 7 p.m., Lewis Library & Technology Center, 8437 Sierra Avenue in Fontana
The San Bernardino County Library Mystery-Themed Paint Night will take place at the following location:
Jan. 28 – 2 to 3 p.m., Yucca Valley Library, 57271 29 Palms Highway in Yucca Valley
San Bernardino County featured in January edition of Inland Empire Magazine
The County's Opportunity campaign featuring the highlights of 2022 is in the January issue of Inland Empire Magazine! Read the article here and watch our 2022 year-in-review accomplishments video here.
In 2022, our fleet of County vehicles was named North America's best. We brought Southern California's first Topgolf to Ontario, launched a Homeless Strategic Action Plan, eradicated 1,100 illegal cannabis farms, made strides toward a new, state-of-the-art animal shelter, opened national award-winning Ayala Park, and much more.
Workshops to inform community of need for mentors during National Mentoring Month
San Bernardino County's Children's Network and Mentoring Task Force are recruiting mentors during National Mentoring Month in January with a series of virtual and in-person workshops to bring attention to the need for mentors throughout the county.
The workshops will inform the community on how to become a mentor to young people who face a variety of risk factors, resources available from local mentoring programs, and ways adults can support young people to ensure positive life outcomes.
Register today at https://2023Summit.eventbrite.com for the virtual Summit for Mentors and Professionals, Jan. 17 and 24, 10 a.m. to noon. Workshops will be held throughout the month of January.
Visit cn.sbcounty.gov for a list of upcoming workshops and registration information. For questions about National Mentoring Month and the Mentoring Program, call the Children's Network's Mentoring Resource Specialist Doreen Ivery at (909) 383-9677.
Symposiums to inform community about Human Trafficking Prevention and Awareness Walk
January is National Human Trafficking Prevention Awareness Month and Children's Network's Coalition Against Sexual Exploitation (CASE) and the San Bernardino County Sheriff's Department are hosting two free symposiums followed by an Awareness Walk to address human trafficking.
The Sheriff's Department, in collaboration with CASE, seek to educate the community about the health and wellness, prevention, education and public safety risks of youth exploitation and human trafficking in the county. Register today for the following free awareness events:
High Desert Human Trafficking Symposium
Jan. 12, 8 a.m. – 4:30 p.m.
High Desert Church, 14545 Hook Blvd. in Victorville
Rancho Cucamonga Human Trafficking Symposium
Jan. 19, 8 a.m. – 4:30 p.m.
Central Park, 11200 Base Line Rd. in Rancho Cucamonga
Human Trafficking Awareness Walk
Jan. 21, 8 a.m. – Noon
Red Robin Restaurant, 12271 Foothill Blvd. in Rancho Cucamonga
For more information visit, https://cn.sbcounty.gov/programs/case or email angel.magallanes@hss.sbcounty.gov.
Volunteer for the Homeless Point-In-Time Count
Make a difference in your community by participating in San Bernardino County's Point-In-Time Homeless Count.
Volunteers are needed on Jan. 26, 2023, to count those who are homeless throughout the county. Results of the annual count help communities secure funding to assist individuals who are homeless or at risk of becoming homeless.
Register as a volunteer by Jan. 18.
For more information, click here.
Adopt Natalia our Pet of the Week
Meet Natalia (A774320), an inquisitive 2-year-old female calico cat at the Devore Animal Shelter.
She loves attention and likes to play and explore.
For more information about animals in need of loving homes in San Bernardino County's Big Bear and Devore shelters, please visit San Bernardino County Animal Care at animalcare.sbcounty.gov to see photographs of animals awaiting adoption or call (800) 472-5609. To donate to assist animals at the shelter, visit www.arffund.org.
County residents' input needed for community health survey by Jan. 18
The Department of Public Health and the Community Vital Signs Initiative are asking county residents to provide feedback aimed at improving community health by taking part in the 2022 Community Health Survey.
The community health survey is anonymous for adults 18 years and older living in San Bernardino County. The survey is part of an ongoing community health assessment to prioritize health-related needs among county residents, set a community-led action plan to address those needs, and improve the community's overall health.
County residents can complete the survey at https://bit.ly/CVSSurvey. The survey focuses on topics to understand what is most important to their health and community, how their quality of life is perceived, and their experience with the effects of health inequities.
County officials warn homeowners of real estate scam
Auditor-Controller/Treasurer/Tax Collector Ensen Mason and Assessor-Recorder-County Clerk Chris Wilhite have issued a joint warning to San Bernardino County homeowners of a nationwide property scam where homeowners are duped into assigning a lien on their property in exchange for an upfront cash payment. The scam is called a Homeowner Benefit Program.
Job Openings and Hiring Events in San Bernardino County
San Bernardino County has jobs that will be opening on Saturday, Jan. 7.
We encourage you to apply and share these job openings with those who may be interested in them. Recruitments listed are subject to final department approval. Check sbcounty.gov/jobs for the most up-to-date recruitments.
For all COVID-19 related information, including case statistics, FAQs, guidelines, and resources, visit the County's COVID-19 webpage at http://sbcovid19.com/. Residents of San Bernardino County may also call the COVID-19 helpline at (909) 387-3911 for general information and resources about the virus. The phone line is NOT for medical calls and is available Monday through Friday, from 9 a.m. to 5 p.m. If you have questions about social services, please call 211.