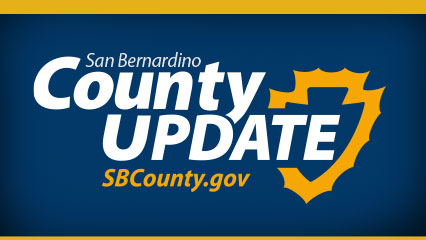 $23.6 million in additional funding secured for veterans' housing project
San Bernardino County has taken a giant leap toward housing homeless veterans and other residents in need by securing a $23.6 million grant to help fund the $50.1 million, 80-unit Liberty Lane housing project in Redlands.
Public Health wins national award for nutrition and literacy program for kids
A fluffy otter skips across the playground, waving his arms to greet Sonia Vega, a health education specialist with the San Bernardino County Department of Public Health. The otter gives Vega a book and her bright, warm smile seamlessly transitions to the next scene, where she holds the colorful book in her hands and begins to read to her digital audience about the adventures of Potter the Otter. Potter the Otter children's books feature an otter who teaches his friends about healthy eating, drinking more water, and exercising.
More than four years ago, Vega and Nutrition and Wellness Services began offering nutrition and health education with a focus on literacy through Potter the Otter story times. Children attending the program received a free book.
When the COVID-19 pandemic challenged Vega's ability to reach the community, creative solutions were needed. Innovative approaches such as a drive-in story time, Potter the Otter story time video series with Vega (in English and Spanish) and an outdoor story time walk were developed.
To date, Vega and Nutrition and Wellness Services have partnered with seven libraries, nine schools and 10 community sites covering 13 cities in the county. The program has reached approximately 4,400 children and families through community sites, Facebook, YouTube and other digital communications.
The program won an Achievement Award from the National Association of Counties (NACo). The award was one of 82 won by San Bernardino County, which won more 2022 NACo Awards than any other county in the United States. 
County Museum launches eye-catching, new mobile-friendly website
The County Museum has taken a dramatic leap forward with the launch of its newly-designed website.
New features include easier navigation, a mobile-friendly design, online ticket sales, digital exhibits, collections access, and much more!
Watch the launch video here.
Board of Supervisors appoints Behavioral Health director
On Dec. 13, the Board of Supervisors appointed Georgina Yoshioka as behavioral health director. Yoshioka served as interim behavioral health director since December 2021, at which time she led department operations and spearheaded various major initiatives.
With 26 years of experience working in the field of social work, Yoshioka specializes in the delivery of behavioral health services to diverse populations including the criminal justice, behavioral health, and child welfare systems. Since joining the Department of Behavioral Health in 2008, Yoshioka has provided leadership over programs within the Adult Forensic Services division and served as the deputy director of 24-hour and Emergency Services.
Mosaics of the Mojave opening at Victor Valley Museum
Mosaics of the Mojave: Life, Culture, and Ecology in the Mojave Desert is an immersive exhibit opening on Jan. 14, 2023, at the Victor Valley Museum. This highly interactive exhibit features a walk-through cave dwelling, close encounters with desert creatures, and the opportunity for visitors to design their own rock art. The San Manuel Band of Mission Indians were impactful collaborators in the development of the exhibit.
General admission is $10 (adult), $8 (military/senior), $7 (student), and $5 (children ages 6 to 12). Children 5 & under and Museum members are free. Victor Valley Museum is located at 11873 Apple Valley Road in Apple Valley. Parking is free and the museum is accessible to persons with disabilities.
For more information, visit https://fb.me/e/7qwgOkPbh.
New concessionaire opportunity available at Calico Ghost Town
Interested in becoming a concessionaire at an historical landmark visited by thousands of people from around the world every year? Regional Parks is now accepting bids for the former Calico Pottery Works concession space (building No. 40) at Calico Ghost Town.
The building is 1,418 square feet with plenty of storage and cubicle space, and a sink. Deadline for proposals is Feb. 17, 2023, at 4 p.m.
An optional site and proposal conference will be held at Calico Ghost Town on Jan. 20, at 2 p.m.
Calico Ghost Town is located at 36600 Ghost Town Road in Yermo. Visit parks.sbcounty.gov for Request for Proposal (RFP) details and submission instructions.
Calico Ghost Town is an Old West silver mining town that was established in 1881 but abandoned in the mid-1890s after silver lost its value. Calico has a rich history of mining and is a state historical landmark. In 2005, the town received a proclamation by the governor recognized as California's Silver Rush Ghost Town.
At the height of its wealth, Calico produced about $87 million in silver and $45 million in borax in more than 500 mines, including the Silver King, Waterloo, Bismark and Maggie Mines.
Keeping up with Kylie and Kendall. Not the Kardashians' sisters. Our Pets of the Week
A rainy day didn't stop these two Labrador Retriever mix dogs from having fun outside. Kylie (A774673) is wearing a blue and gray raincoat and Kendall (A774674) is wearing an orange, pink and gray raincoat. The two explored the play area at the Devore Animal Shelter. These two fun-loving dogs are microchipped, unaltered females who are estimated to be 2 years old. Both dogs are available for adoption Jan. 14 from the Devore Animal Shelter.   
For more information about animals in need of loving homes in San Bernardino County's Big Bear and Devore shelters, please visit San Bernardino County Animal Care at animalcare.sbcounty.gov to see photographs of animals awaiting adoption or call (800) 472-5609. To donate to assist animals at the shelter, visit www.arffund.org.
Job Openings and Hiring Events in San Bernardino County
San Bernardino County has jobs that will be opening on Saturday, Jan. 14.
We encourage you to apply and share these job openings with those who may be interested in them. Recruitments listed are subject to final department approval. Check sbcounty.gov/jobs for the most up-to-date recruitments.
For all COVID-19 related information, including case statistics, FAQs, guidelines, and resources, visit the County's COVID-19 webpage at http://sbcovid19.com/. Residents of San Bernardino County may also call the COVID-19 helpline at (909) 387-3911 for general information and resources about the virus. The phone line is NOT for medical calls and is available Monday through Friday, from 9 a.m. to 5 p.m. If you have questions about social services, please call 211.