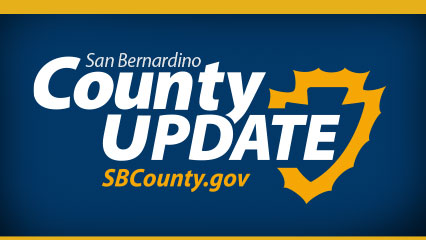 • San Bernardino County celebrates Mental Health Awareness Month
• State-protected bird delays completion of Santa Ana River Trail
• CalFresh applications due May 9 for eligible residents impacted by storms
• Public Health hosts black maternal community health fair and film screening
• Two mountain lion cubs get permanent home at the Big Bear Alpine Zoo
• County celebrates the completion of Snowdrop Road
• Employees Recognized for Excellence in Public Service
• Calico Bluegrass Festival brings repertoire of Americana, blues folk artists to daylong event
• 8th annual Bucky Ball celebrates the County Museum's mission of public service and education
• Animaker Space will inspire imaginations at Fontana library
• Pet of the Week: Othello
---
San Bernardino County celebrates Mental Health Awareness Month
Nearly one in five American adults are affected by mental illness, yet only 60 percent of adults with serious mental illness are receiving treatment and only half of all children with mental illness are receiving treatment, according to the National Alliance on Mental Illness (NAMI), who points out that mental illness can affect anyone regardless of race, ethnicity, national origin, language, creed, gender, sexual orientation, or socio-economic status.
Left untreated or undertreated, mental illness can become severe and disabling, and have a profound impact on educational attainment, lost income and earnings for individuals and families. Mental illness is a leading factor in homelessness. With the appropriate treatment and interventions, individuals with mental illness can recover and lead productive, fulfilling lives.
Since 1949 the United States has observed May as Mental Health Awareness Month and the San Bernardino County Department of Behavioral Health (DBH) is committed to providing culturally and linguistically appropriate mental health services, including community outreach and education, to reduce the stigma associated with mental illness and increase access to services.
DBH and the County Behavioral Health Commission will celebrate Mental Health Awareness Month during all of May and promote wellness, recovery, and resilience with an anti-stigma campaign and community events to provide educational resources related to mental health and substance use disorder and to recognize those individuals and agencies who provide excellent behavioral health services throughout San Bernardino County.
This year NAMI celebrates the 2023 theme, More Than Enough!, as an opportunity for all to come together and remember the inherent value we each hold — no matter the diagnosis, appearance, socioeconomic status, background or ability. No matter what, you are inherently worthy of more than enough life, love, and healing. Showing up, just as you are, for yourself and the people around you, is more than enough.
Visit the DBH website and social media for more information on how you can get involved this month, www.sbcounty.gov/dbh
To speak to a behavioral health staff member at any time, call (888) 743-1478. Community-based mobile crisis response teams for children and adults experiencing a psychiatric emergency are also available in English and Spanish from 7 a.m. to 10 p.m. daily. Call (800) 398-0018 or text (909) 420-0560.
---
State-protected bird delays completion of Santa Ana River Trail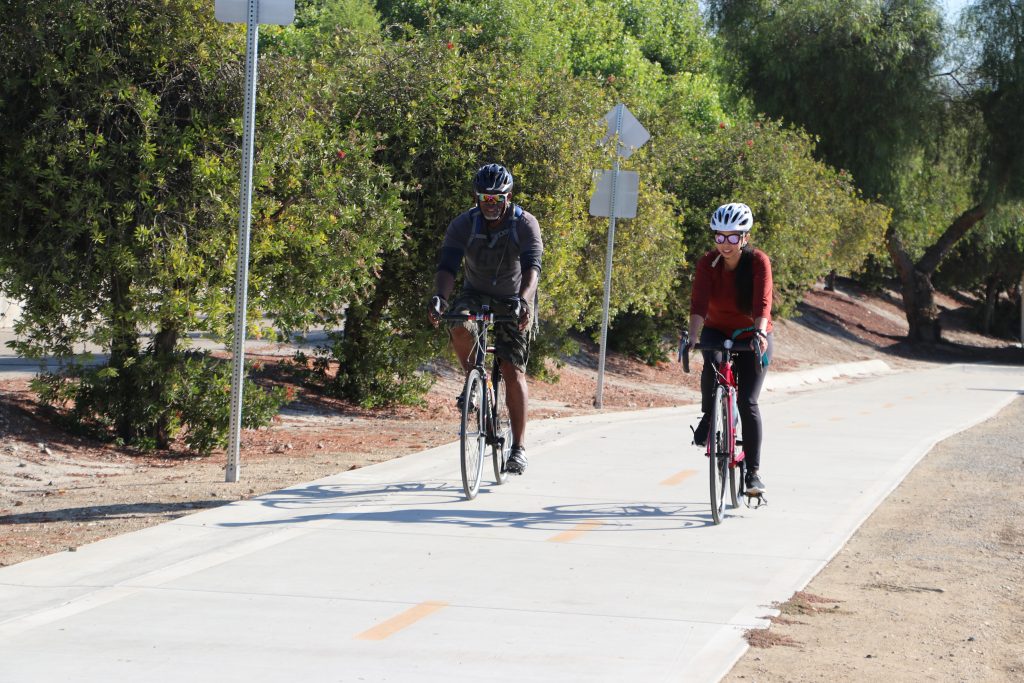 The unexpected discovery of a state-protected bird has brought construction of Phase III of the Santa Ana River Trail in Redlands and San Bernardino to a sudden halt, the County announced this week.
---
CalFresh applications due May 9 for eligible residents impacted by storms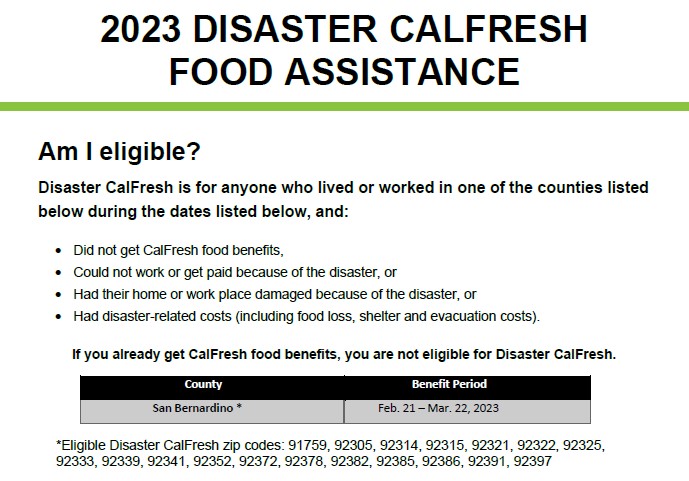 Residents impacted by the recent severe winter storms between February 21, 2023 – March 22, 2023, have until May 9 to apply for special Disaster CalFresh food benefits. Disaster CalFresh provides one month of food benefits to eligible disaster-impacted households that do not already receive CalFresh benefits.
Households may be eligible to a 30-day non-prorated payment, for example a family of four with a monthly income up to $3,130 per month may be eligible to receive up to $939 in food benefits through this program if they lived or worked in San Bernardino County and were adversely impacted by the severe winter storms. Applications are being accepted online at BenefitsCal.com or in-person by visiting your local Transitional Assistance Department (TAD) office. You may also call 1-877-410-8829 to see if you qualify.
---
Public Health hosts black maternal community health fair and film screening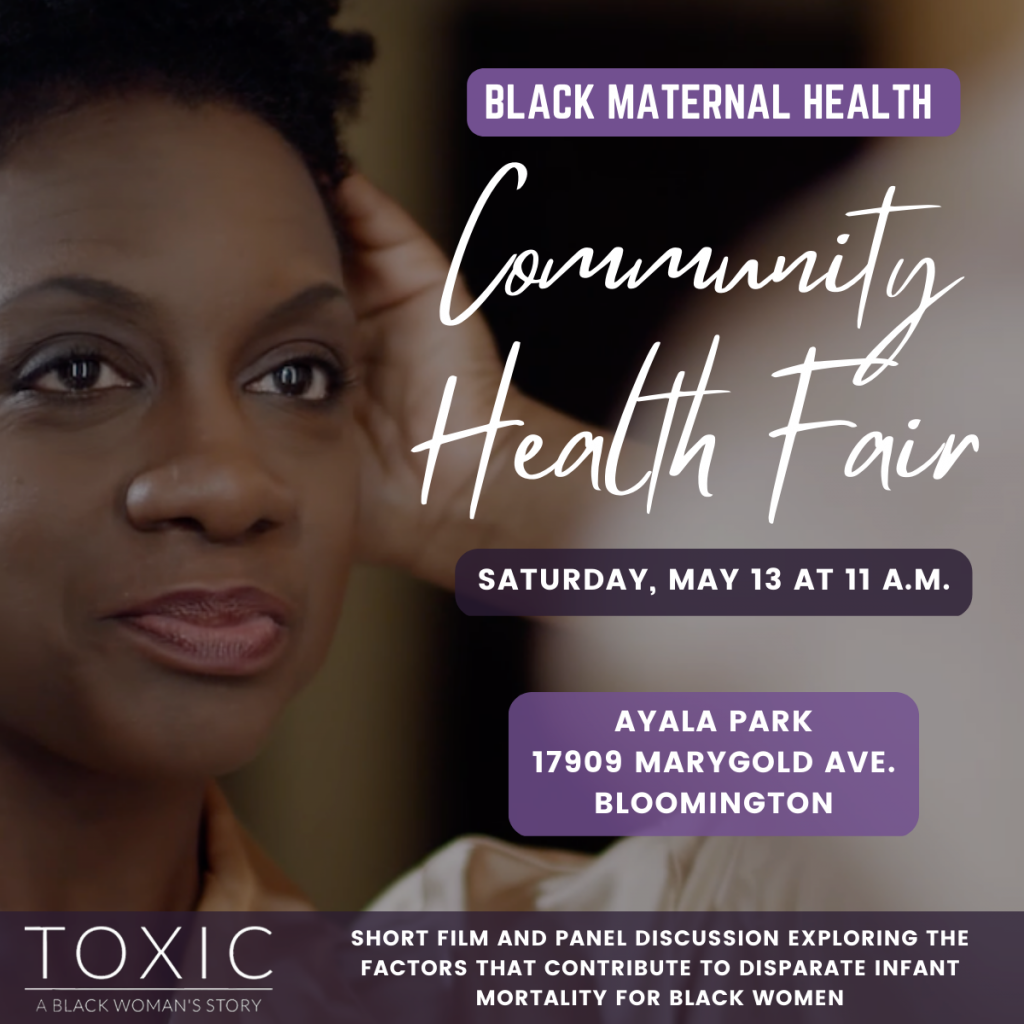 San Bernardino County Department of Public Health continues the work of advancing maternal health with its Black Maternal Community Health Fair aimed at addressing disparities in maternal healthcare in the Black community. This no-cost event will be held Saturday, May 13 at Ayala Park in Bloomington at 11 a.m., and will feature a viewing of the short film "Toxic" followed by an engaging panel discussion with birthing professionals serving our community.
---
Two mountain lion cubs get permanent home at the Big Bear Alpine Zoo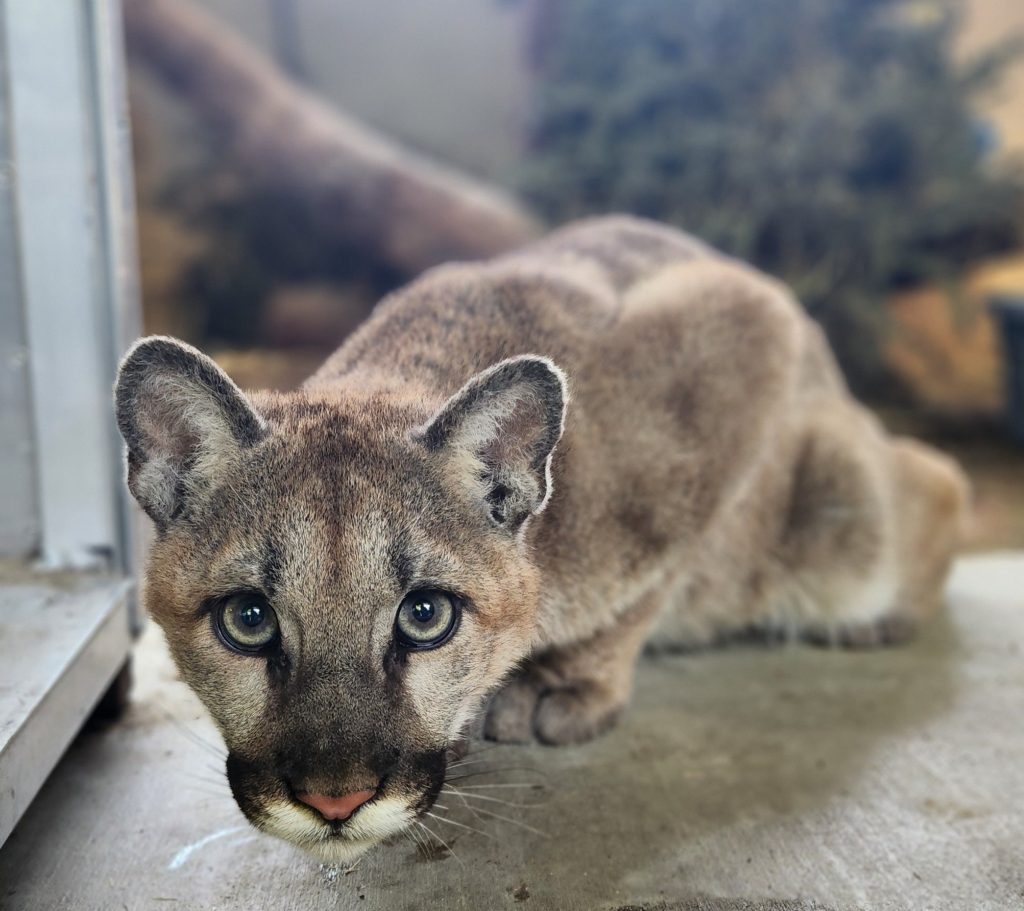 Keepers and Maintenance staff have been working diligently to prepare the quarantine area and Mountain Lion Display for the arrival of Hazel and Holly, two unrelated female mountain lion cubs that were found orphaned in early February. Since being rescued, California Fish and Wildlife placed them at Oakland Zoo for veterinary treatment and critical care. Due to their age and extensive treatment, both cubs were deemed "non-releasable" by wildlife experts with California Department of Fish and Wildlife.
---
County celebrates the completion of Snowdrop Road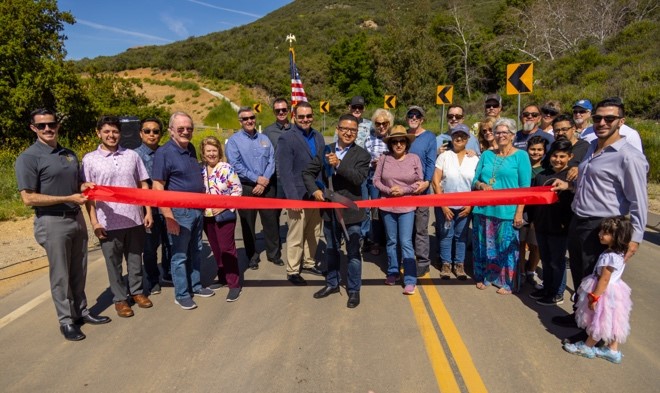 San Bernardino County Public Works – Special Districts celebrated the completion of Snowdrop Road with a ribbon cutting ceremony on Saturday, April 22. Construction started in May of 2021 for this $6 million dollar project. Snowdrop Road is located in the unincorporated area of Rancho Cucamonga connecting Archibald and Haven Avenues.
---
County employees recognized for excellence in public service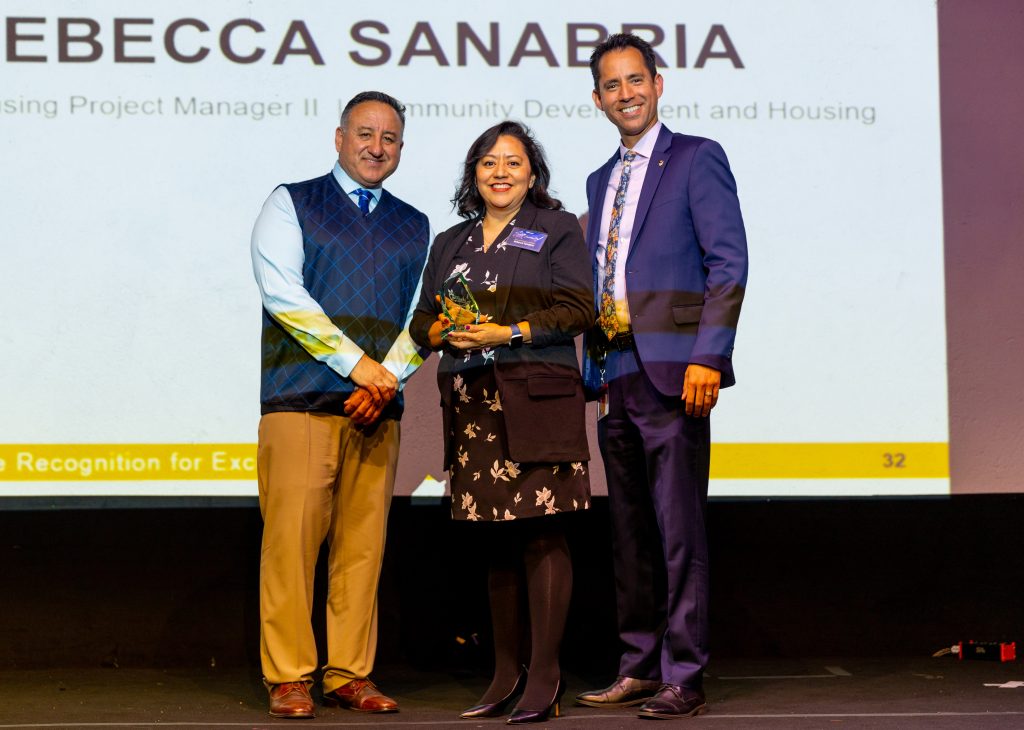 The San Bernardino County Board of Supervisors recognized 37 County employees for exceptional public service during the County's annual celebration of Public Service Recognition Week on May 3.
The honorees, each from a different County department, were selected by their peers for the Award for Excellence. They were honored during ceremonies at the Fox Event Center in Redlands. The event marked the 34th year that the County has celebrated its top employees during Public Service Recognition Week, which is observed nationally during the first week of May.
---
Calico Bluegrass Festival brings repertoire of Americana, blues folk artists to daylong event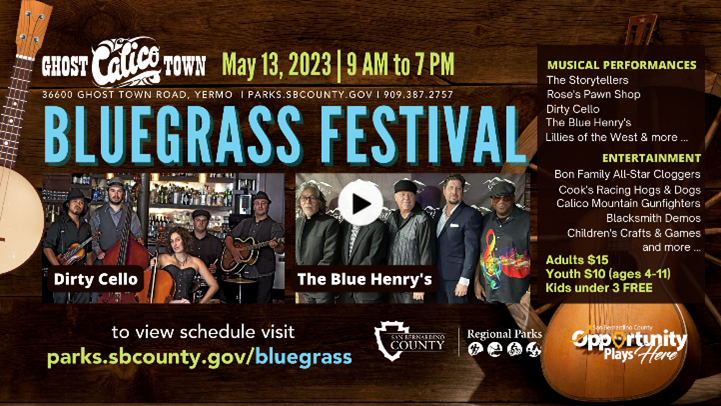 Join us on Saturday, May 13 for our annual Bluegrass Festival at Calico Ghost Town, featuring a musical lineup of traditional and progressive bluegrass headliners, such as emerging L.A.-based folk-rock bands, Rose's Pawn Shop, the Storytellers and San Francisco-based band Dirty Cello and all women band Lilies of the West, and more.
The festival blends Bluegrass music with old-fashioned activities and entertainment for the entire family. Watch the lighting fast pigs race around a track and vie for a reward of ice cream and cookies or watch our Calico Mountain Volunteer Gunfighters duel it out in live reenactments. The Bon Family & CA All Star Cloggers will be performing toe tappin' shows throughout the day.
Eventgoers can experience what school was like for students who attended class at Calico during the late 1800s, tour the famous Maggie Mine and Dead Mans Drift and learn about how silver was mined in 1881 or take a train ride through the hills of Calico. Skilled blacksmith demonstrations will be available throughout the day.
There will be arts & crafts, games and activities for all, including the popular egg toss. All town shops will be open, including the Calico House Restaurant, Miners Café and Lil's Saloon. Watch videos on all the Calico shops.
Other performers include Eric Gorsuch, the High-Desert bands Blue Henry's, High D Boys and local band Billhillyz.
For a full schedule of events visit parks.sbcounty.gov/bluegrass.
Calico is pet-friendly and requires all pets be leashed at all times. Dog accessories can be purchased at Dorsey's Dog House. Due to the historic nature of the town, not all areas are ADA accessible. It is advised to wear comfortable walking shoes and clothing.
Camping is also available for this event and may be booked online at www.sbcountyparks.com. Four tickets to this event are included with camping reservations.
The Calico Town and shops will be open Saturday from 9 a.m. to 7 p.m. Admission to the festival is $15 for adults, $10 for youth (ages 4-11), and ages three and under are free.
Calico Ghost Town is located at 36600 Ghost Town Road Yermo, CA 92398.
---
8th annual Bucky Ball celebrates the County Museum's mission of public service and education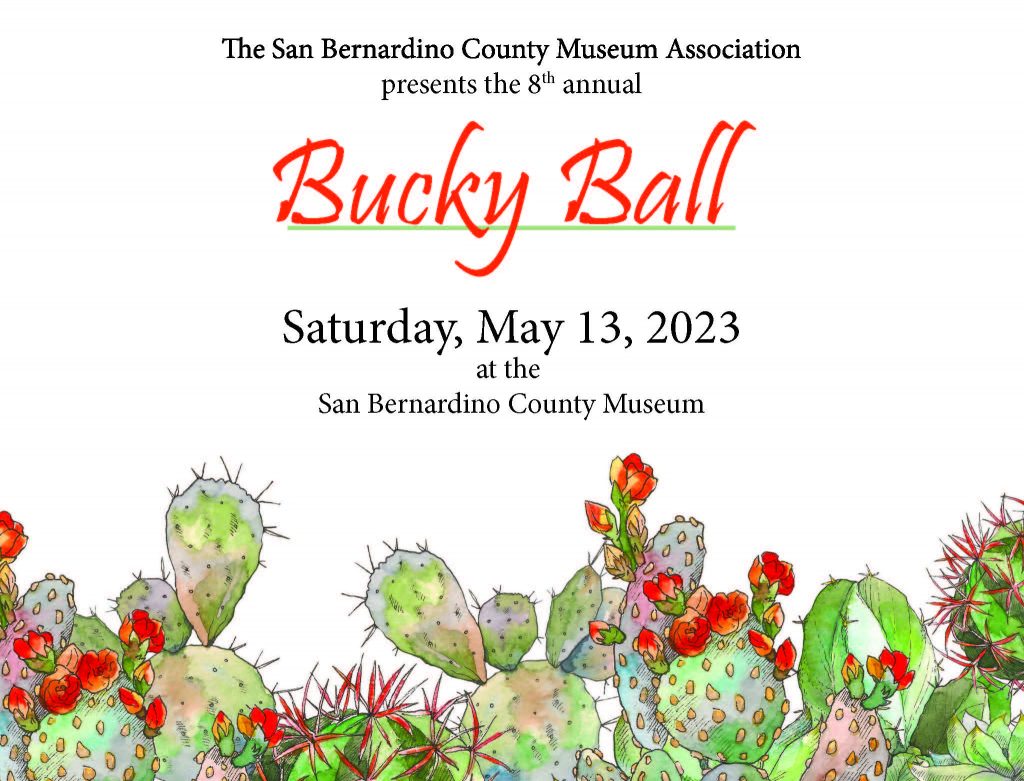 The San Bernardino County Museum Association announces its eighth annual Bucky Ball Gala taking place on Saturday, May 13, 2023, at 5:30 p.m. The in-person gala will feature a final viewing of the exhibit Handle with Care: A Special Project of the MexiCali Biennial program, Land of Milk and Honey. The Association is the 501(c)(3) nonprofit organization that supports the San Bernardino County Museum in Redlands and its branches, including the Victor Valley Museum in Apple Valley. The fundraising event supports the Museum's mission of developing appreciation and sparking curiosity in regional cultural arts, history, and natural and earth sciences through exhibits and educational programming.
This year, the lively event will be held in the outdoor courtyard of the San Bernardino County Museum where guests will be able to reconnect and engage in conversations celebrating the Museum's service to Inland Empire families and support for increasing the number of youth pursuing art and science education and careers. As in the past, the event will include a social and live auction of unique items including jewelry, excursions, and more.
The 2023 Bucky Ball will also honor three regional partners with the Good Egg Award: Dawn Rowe, Chair of the San Bernardino County Board of Supervisors, San Bernardino City Unified School District, and Inland Empire Community News. These awardees have been exceptional partners of the Association by supporting its efforts to assist the Museum in increasing their impact in our region.
As the largest cultural and natural history center in the region, the San Bernardino County Museum plays a vital role in our children's education. Named in honor of the science innovation of Buckminster Fuller, an engineer, poet, and environmentalist, the Association's Bucky Ball event highlights the mission of the museum, as well as the museum's iconic architectural dome, inspired by Fuller's geodesic domes, and visible from Interstate 10 since 1974.
"This is our most important event of the year. The support the Association raises at the Bucky Ball provides vital resources for the Museum and ensures they are able to meet the educational needs of our region," shared Brandon Mulder, the Association's Executive Director.
Museum Director, David Myers, said, "We are grateful to benefit from the fundraising efforts of the San Bernardino County Museum Association. This long-standing partnership is a key part of the Museum's ability to develop excellent exhibits and programming. I look forward to a successful 2023 Bucky Ball and thank all the donors that appreciate the meaningful service the Museum provides the community."
Tickets for the evening are on sale now and can be purchased online. Tickets are $150 per person, $125 for members. A non-member table for ten can be purchased for $1,500 or $1,250 for members. Guests who are unable to attend are encouraged to consider donating or becoming a sponsor. Sponsorship opportunities include a $10,000 Titanium Sponsor, $5,000 Platinum Sponsor, $2,500 Gold Sponsor, $1,000 Silver Sponsor, and $500 Copper Sponsor. For more information on donating or sponsoring, visit the San Bernardino County Museum Association's website or call (909) 798-8626.
The San Bernardino County Museum's exhibits of regional, cultural, and natural history and the Museum's other exciting events and programs reflect the effort by the Board of Supervisors to achieve the Countywide Vision by celebrating arts, culture, and education in the County, creating quality of life for residents and visitors.
---
Animaker Space will inspire imaginations at Fontana library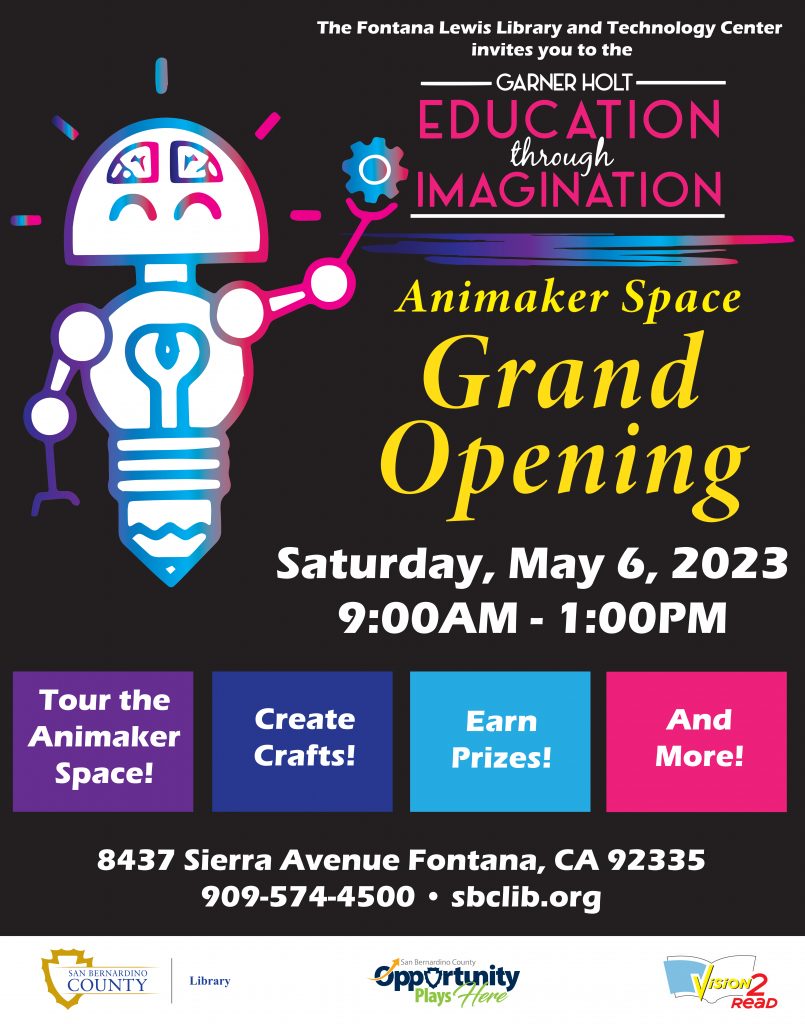 The Fontana Lewis Library and Technology Center is excited to announce the grand opening of the Garner Holt Animaker Space, the first of its kind in a public library! Join us on Saturday, May 6 from 9 a.m. to 1 p.m. to get a special tour of the Animaker space, create fun crafts, and participate in an opportunity drawing for great prizes!
For every 15 items checked out with a San Bernardino County Library card during the grand opening event, patrons will earn a fun incentive and an opportunity drawing ticket for a chance to win a prize.
In addition to the grand opening event, the San Bernardino County Library System is pleased to offer exciting classes that teach children and adults how to use 3D printers, laser cutters, and other state-of-the-art machines to learn invaluable technological skills as well as build their own unique animatronics. All events and classes are free of charge and open to the public. To sign up for classes, patrons must register on Eventbrite. Space is limited, so sign up today! This special event and these classes are another opportunity to celebrate and support the Countywide Vision's literacy campaign, Vision2Read as well as the newest initiative, the Opportunity campaign.
Moreover, for every 30 items checked out in the month of May, customers will be entered in a drawing for a Star Wars-themed prize basket!
The Fontana Lewis Library and Technology Center is located at 8437 Sierra Avenue in Fontana.
For more programs, events, and additional information, please visit sbclib.org or contact your local branch library.
The San Bernardino County Library System is a dynamic network of 32 branch libraries that serves a diverse population over a vast geographic area. The County library system strives to provide equal access to information, technology, programs, and services for all people who call San Bernardino County home.
The Library plays a key role in the achievement of the Countywide Vision by contributing to the educational, cultural, and historical development of our County community.
For more information on the San Bernardino County library system, please visit http://www.sbclib.org/ or call (909) 387-2220.
---
Pet of the Week: Othello
Meet our Pet of the Week Othello. (ID #A777777). Othello is an unaltered male and is estimated to be 2 years and 1 month old. Othello is a brown and black Shephard mix and has been at the shelter since April 3, 2023.
For information about animals available for adoption in San Bernardino County's Big Bear and #Devore shelters, please visit San Bernardino County Animal Care at animalcare.sbcounty.gov/pets to see photographs of the pets awaiting adoption or call (800) 472-5609.
To donate to assist animals at the shelter, visit www.arffund.org.
---
Join our award-winning workforce at San Bernardino County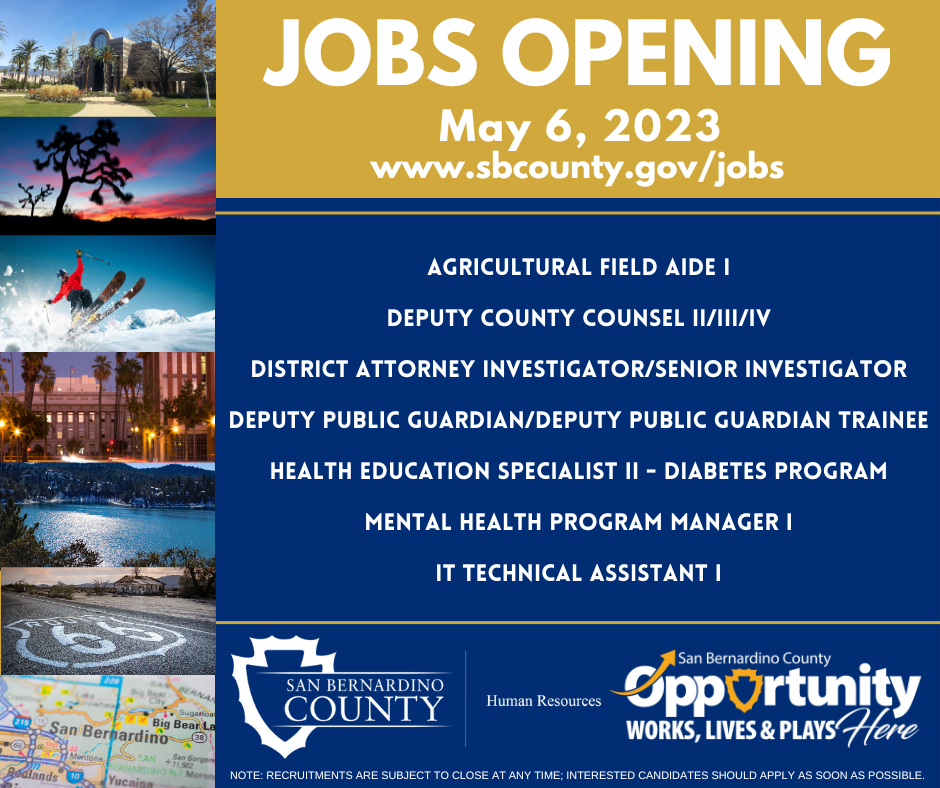 San Bernardino County has jobs that will open on Saturday, May 6.
We encourage you to apply and share these job openings with those who may be interested in them. Recruitments listed are subject to final department approval.
Check Job Opportunities for the most up-to-date recruitments.
---