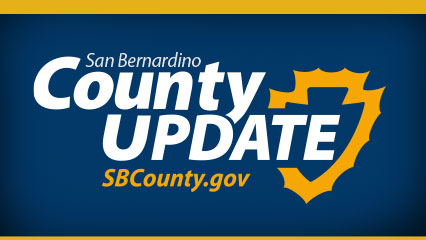 Volunteer for the Homeless Point-In-Time Count in January
Make a difference in your community by participating in San Bernardino County's Point-In-Time Homeless Count.
Volunteers are needed on Jan. 26, 2023, to count those who are homeless throughout the county. Results of the annual count help communities secure funding to assist individuals who are homeless or at risk of becoming homeless.
Register as a volunteer by Jan. 18.
Join the fun at Regional Parks events this holiday season
Workforce services available to county residents and businesses
The San Bernardino County Workforce Development Board (WDB) provides a multitude of resources to all county residents. Recently, WDB Director Brad Gates was invited to speak at the Chino Valley Chamber of Commerce to talk about the many workforce programs available, including insights into our region's labor market data.
Gift a kid a book this holiday season
First 5 San Bernardino is encouraging parents and caregivers to give books as gifts in addition to toys this holiday season. The Gift a Kid a Book campaign is about sharing the importance of learning and literacy with young ones.  According to First 5 San Bernardino Executive Director Karen Scott, 90 percent of a child's brain develops by age 5, so making sure that all children 0-5 have access to books and are exposed to language from an early age is crucial for their development.
Board appoints Assessor-Recorder-Clerk Chris Wilhite to serve two more years
The Board of Supervisors on Tuesday unanimously appointed Chris Wilhite to serve an additional two years as Assessor-Recorder-Clerk.
Coping with seasonal affective disorder and grief during the holidays
The holidays and winter season can be a difficult time for many individuals and families. The winter blues can stir up negative emotions and create symptoms that take a toll on your overall well-being. Dr. Ambarin Faizi, the Department of Behavioral Health's Associate Medical Director, provides information about Seasonal Affective Disorder (SAD) and how to manage grief during the holidays. Tune in to the Department of Behavioral Health's Resilient and Real podcast to learn coping strategies to maintain wellness during the winter months.
Resilient and Real is on Apple Podcasts, Spotify, iHeart Radio, Amazon Music, online or wherever you get your podcasts!
Isabell the cat is our Pet of the Week
Isabell (A772462) needs a forever home and can be adopted by that special someone today. She is a 3-year-old unaltered female, long-haired cat who came to the Devore Animal Shelter from San Bernardino on Halloween day. She doesn't mind being held by the caring staff at the shelter, but also likes to be adventurous. You can adopt Isabell from the San Bernardino County Animal Shelter in Devore. For more information about animals in need of loving homes in San Bernardino County's Big Bear and Devore shelters, please visit San Bernardino County Animal Care to see photographs of the animals awaiting adoption or call (800) 472-5609. To donate to assist animals at the shelter, visit Animals aRe First Fund (ARFF).
Jobs of the Week and other hiring events
San Bernardino County has jobs that will open on Saturday, Dec. 10.
We encourage you to apply and share these job openings with those who may be interested in them. Recruitments listed are subject to final department approval.  Check Job Opportunities for the most up-to-date recruitments.
For all COVID-19 related information, including case statistics, FAQs, guidelines, and resources, visit the County's COVID-19 webpage. Residents of San Bernardino County may also call the COVID-19 helpline at (909) 387-3911 for general information and resources about the virus. The phone line is NOT for medical calls and is available Monday through Friday, from 9 a.m. to 5 p.m. If you have questions about social services, please call 211.